At Austin Chiropractic & Rehab, we specialize in nonsurgical treatment for patients affected by whiplash. Whiplash is a common condition experienced by people involved in car accidents and other impact-related incidents. Anything that causes the muscles in the neck to move forward and back quickly will strain the muscles and cause whiplash. Whether you're seeking treatment for neck pain or headache relief our Austin whiplash doctors near you are here to help!
Understanding the cause of your symptoms will be the most effective way to treat whiplash.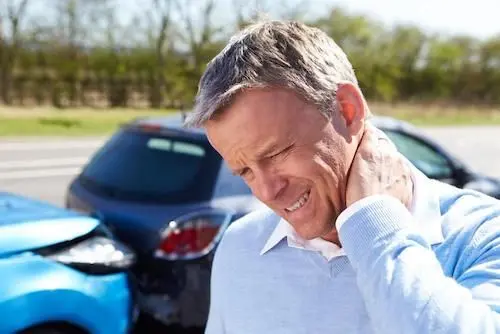 What Causes Whiplash?
Whiplash is a common side effect of an auto accident. It occurs when small tears appear in the muscles and ligaments of the neck. Whiplash can cause soft tissue injuries that can cause prolonged disability, especially if the injury is not treated properly and in a timely fashion. Common symptoms of whiplash include:
Neck Pain / Stiff Neck
Chronic Headaches
Muscle stiffness
Pain radiating up the neck and into the scalp
Back Pain
Blurry vision
Tenderness
Difficulty sleeping
Because of the nature of the injury, these symptoms may not present themselves until days or weeks after an accident occurs. Our whiplash specialists near you understand that many patients walk away from the site of the accident without realizing that they've been injured, only to notice signs of injury much later.
Some patients are much more susceptible to whiplash than others. Professor of Neurology Peter Behan stated that injuries such as whiplash can bring on multiple sclerosis if the individual is already susceptible. In another example, women have a thinner neck and less rigid joints, which puts them at higher risk for whiplash. In addition, people who use head restraints that are too low in cars can cause a more severe whiplash injury than vehicles that don't use head restraints at all. However, all patients are at risk for whiplash and must be cognizant of the possibility of whiplash after a car accident occurs.
Patients who do not experience symptoms of whiplash immediately after an accident occurs are still encouraged to seek medical care, even if their vehicle was barely damaged in the accident. Our local chiropractor can diagnose your condition even before symptoms present themselves. If you are experiencing back pain, we encourage you to book an appointment with a back pain specialist closest to your location.
Diagnosis & Treatment: How Does Chiropractic Care Treat Whiplash?
The first thing a chiropractic professional will do when you come in with neck pain is to diagnose the cause. Sometimes neck pain can be caused by things other than whiplash. Our chiropractor will look at your entire spine, because the pain in your neck may be referred from somewhere else. Our whiplash doctor will also feel for tender spots, tight muscles, and other sore areas on your neck, and will check your neck's range of motion.
Your walking and posture will also be taken into consideration when making a diagnosis. Looking at all of these things together allows your doctor closest to you to understand how your unique body moves, how your spine aligns with the rest of you, and more. This information will give your doctor what he or she needs to decide if you have whiplash.
If you come in complaining of neck pain after a car accident, whiplash will, naturally be the first thing our doctor will suspect. However, it is important to get an accurate diagnosis.
If whiplash is diagnosed, you may get x-rays or an MRI to determine if there were any degenerative changes in your spine before you got the injury. This knowledge will help determine the best course of treatment for you. If you are looking for whiplash treatment closest to your location, visit us today. We are centrally located in Austin, serving all of Travis County.
What Does Our Austin Doctor Do About Whiplash?
There are several different treatments that may be used, depending on what caused your injury, and its severity. In standard medical settings, whiplash is treated with bed rest and a cervical collar to keep the neck immobilized. However, in a chiropractic setting, patients are treated with a combination of spinal adjustments, stretches and exercises and applications of ice.
Spinal adjustment is the most common treatment provided at a car accident injury clinic, but even there, room for variation exists. There are several different types of spinal manipulation that can be used as a treatment for this injury. Treatments can involve the traditional manipulations where a whiplash doctor in Austin, TX places hands on the vertebrae that are affected by the muscle tension from the injury, and moves those vertebrae back into their correct positions, which relieves muscle tension and whiplash pain.
Spinal manipulation is a technique we use to realign the vertebrae and reduce pressure on the spinal cord. Spinal adjustment helps treat subluxations, improve circulation to the injured area. Many patients who are given spinal adjustment start to feel better immediately upon receiving the treatment.
Other treatments use gentle muscle stretching, and even a special instrument that applies the necessary pressure to the spine without the doctor pushing on it. Again, the treatment all depends on your unique injury. The goal of treatment is always to relieve pain and eliminate it so you can get your old life back again. Most patients go on to have a full recovery with good chiropractic treatment.
At Austin Chiropractic & Rehab, our team will also teach our patients to do stretches and exercises that will help improve mobility, reduce inflammation, reduce muscle tension and help the patient stay mobile during recovery. Patients are encouraged to perform their exercises daily. This active form of treatment helps patients experience less pain overall and regain standard mobility much more quickly than the traditional medical treatments. What's more, our doctor accepts walk ins!

What To Do Next: Contact Our Doctors Near You for Whiplash Treatment
If you have had an auto accident, experiencing chronic neck pain, or if you have sudden neck pain after an event that caused your head to move forward and back quickly, make an appointment for an evaluation at Austin Chiropractic & Rehab.
Whiplash accelerates cervical spondylosis by 15 years, so seeking treatment for your whiplash is critical. We can help you get treatment for your car accident injuries. Whether you're experiencing symptoms or simply want to get a check up after your accident, contact us today!
---
Early mobilization of acute whiplash injuries
British Medical Journal
Vol. 292, March 8, 1986, pp 656-657
K Mealy, H Brennan, GCC Fenelon
Whiplash Injury
Journal of Bone and Joint Surgery (British)
July 2009, Vol. 91B, no. 7, pp. 845-850
G. Bannister, R. Amirfeyz, S. Kelley, M. Gargan