At Austin Chiropractic & Rehab, we're proud to offer effective, natural chiropractic and wellness care to meet your health and wellness needs.
Our techniques are delivered naturally, through non-invasive means. That means our treatments require shorter recovery times than many standard medical treatments, and we treat pain at its source, instead of masking the pain with medication. Whether you're new to chiropractic care in the Austin area, or have been to a chiropractor before, we encourage you to come to Austin Chiropractic & Rehab for holistic, whole-body healing.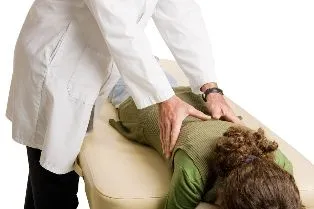 Chiropractic & Non-Surgical Pain Management for ATX
Dr. Shawn McHone D.C. has helped thousands of people in Austin, Texas find relief from their chronic pain and suffering. He has created a unique system to identify and solve complicated pain conditions.
Did you know: Studies have shown chronic pain increases the risk of cancer and premature death? According to several studies in the medical literature, individuals with widespread pain and those with fibromyalgia have an increased risk of dying prematurely from a variety of cancers and other causes. Other studies, confirm those with widespread pain had roughly double the risk of dying over the nine- year follow-up period in comparison to those without pain.
Two thirds of Individuals suffering with back pain also suffer another pain condition. According to J. MacFarlane M.D, if there is a link between widespread pain and cancer it may be lifestyle disruption, low levels of exercise, alcohol consumption. Individuals who reported widespread pain at baseline had roughly a 60% greater risk of developing cancer.
We Offer Gentle, Non-Invasive Services
We offer members of the Austin community a range of services, including:
Family Chiropractic Care
Chiropractic adjustment -Our spinal adjustments help realign the vertebrae of the spine, reduce muscle tension and relieve pressure on the joints. This technique is effective for relieving joint and muscle pain throughout the body.
McKenzie Exercises is a program of assessment, treatment and prevention strategies (including exercise) that is used to relieve back and neck pain.
Posture screenings -Our spinal and postural screenings help reveal problems that would otherwise go undiagnosed.
Auto Accident & Personal Injury
If you've been involved in an automobile accident in Austin, our personal injury chiropractors can help. We will provide a complete initial consultation, exam, diagnosis, and prescribe a treatment program, and document it every step of the way.

Sports Injury Rehab
Our Austin sport doctors of chiropractic (DC) treat neuromusculoskeletal problems and are trained and licensed to provide treatment on sports training and injury prevention to athletes.
Strengthening Exercises
We teach our patients how to perform corrective exercises. These exercises can help relieve musculoskeletal pain and help our patients heal from their injuries. Best of all, since our corrective exercises can be done at home, stretches and exercises help our patients work on their healing outside the chiropractic clinic.
Nutritional Counseling
Proper nutrition is important for all our patients. Proper nutrition can help you meet your target weight and keep off extra pounds. Eating right can also give you the energy you need to exercise, which can help improve your musculoskeletal health and avoid injuries.
Lifestyle Advice
Good health and wellness is achieved by living a healthy lifestyle. We coach our patients to help them avoid behaviors that can be detrimental to their health and wellbeing.

Our Approach to Chiropractic
We use a number of highly-effective adjusting approaches to help improve spinal biomechanics. The approach we use is based on our judgment and years of experience.
Austin patients enjoy Dr. Shawn McHone's diversified adjusting approach. Think of an adjustment as "tuning" a piano, adjusting each string so it produces the perfect tone.
McKenzie Exercises is a program of assessment, treatment and prevention strategies (including exercise) that is used to relieve back and neck pain.
If you've been to a chiropractor before and prefer to be adjusted in a particular way, let Dr. Shawn McHone know. We want you to relax, enjoy and fully benefit from your chiropractic care.
Contact Us for A Chiropractic Appointment In Austin Today!
At Austin Chiropractic & Rehab, we're proud to provide people of Austin with natural healing services. We treat a variety of conditions including auto accident injuries, musculoskeletal conditions, back pain, arthritis, whiplash and more. If you suffer from a chronic condition, have an injury or simply want to feel your best, contact us today at 512-643-1642 to make an appointment.